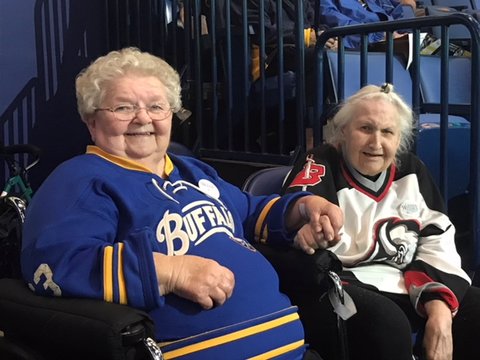 Two Wishes Granted At Once For Betty and Elaine To Go To A Sabres Game!
A Wish to attend a Sabres game – Betty, 87 and Elaine, 82
Betty and Elaine are long time Buffalo Sabres fans. They were each nominated for a wish to see a Sabres game. We paired them up to attend a game together and they became fast friends! They both shared that their favorite player is Jason Pominville, and they were thrilled when the Sabres presented them each with an autographed photo of Jason. They were then surprised to be given special passes to go to the hallway where the players warm up for the next period. They met Rob Ray, and got to "fist bump" several of their players on the way out.
Ultimately, their beloved Sabres lost the game. However, Betty and Elaine were given memories to last them a very long time!