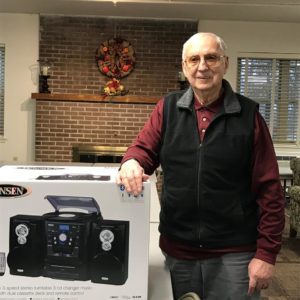 A New CD/Tape Player For Veteran Manny, 90
Manny, a Veteran who served in the army from 1947-1954, is the resident DJ at his senior apartment complex. Recently, his cd/tape player broke. He was anxious to get it replaced before the upcoming New Year's Eve party. Manny loves music and has an extensive music collection of over 7,000 songs!
We were happy to be able to grant Manny's wish for a new cd player so that he could continue bringing music to the lives of those around him!