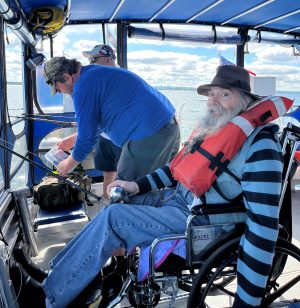 400th Wish Granted! A Wish to go fishing out on the lake!
Our 400th Wish was granted in August, 2022, to Daniel, who was nominated by staff at Elderwood at Cheektowaga. On a beautiful August day, a few family members joined Daniel as he fulfilled his dream to go fishing on Lake Erie once again.
A happy, memory-making day was enjoyed by all, but most of all, Daniel was able to hold the fishing pole in his hands once again and feel the breeze on his face while out on the water. We thank Excalibur Leisure Skills Center for their assistance with this wish granting.
We believe you are never too old to re-engage in a hobby! Thank you to all of you who support Senior Wishes so we may continue to bring joy to our seniors and remind them that they are not forgotten!